Please join us
Archway Academy's The Art of Recovery HTX Virtual Art Show and Exhibit
SEPT 8, 2020
Artists can sign and return submission paperwork, bios and condition of participation form.
SEPT 20, 2020
Show and sales begin.
OCT 23, 2020
Show ends. Platform will be dismantled.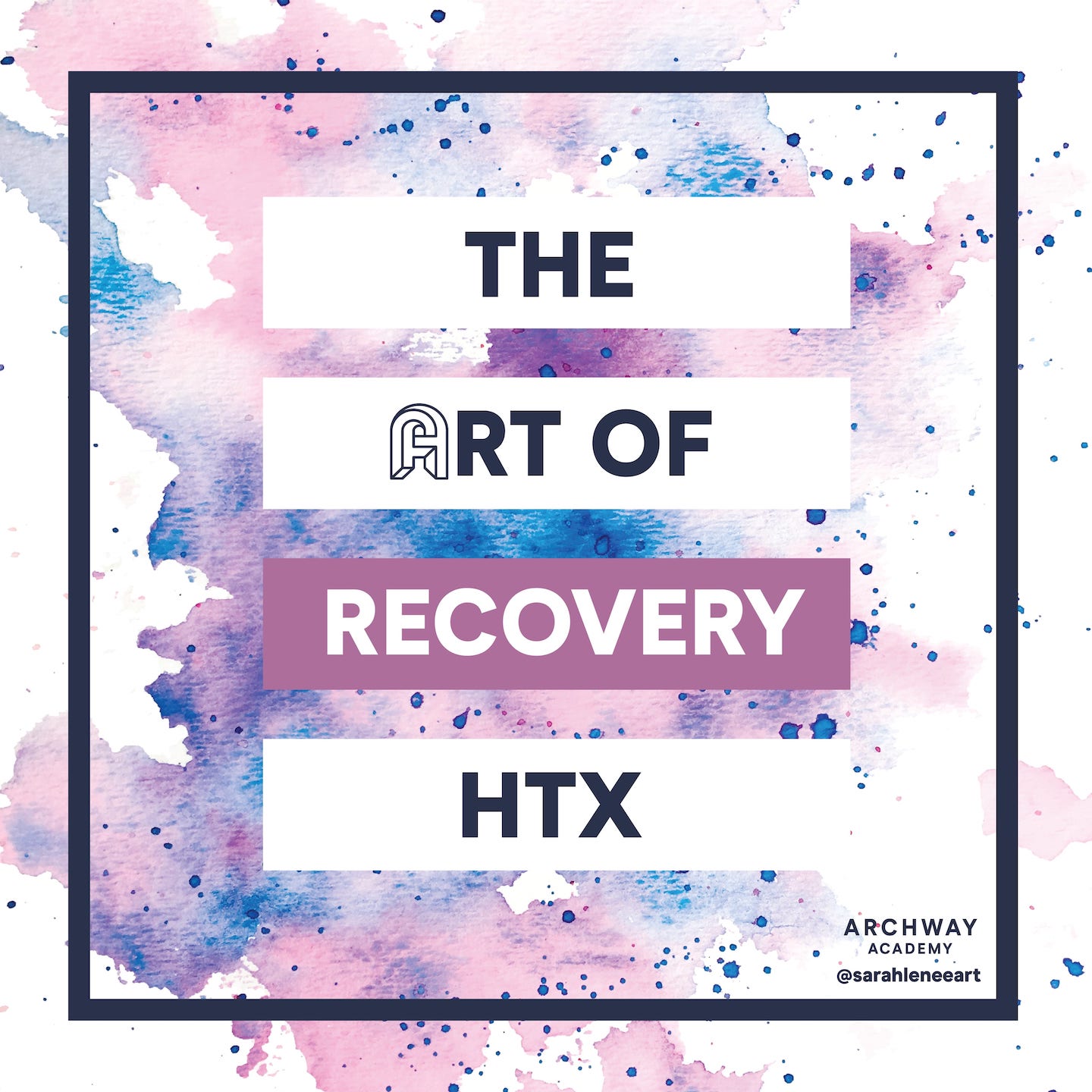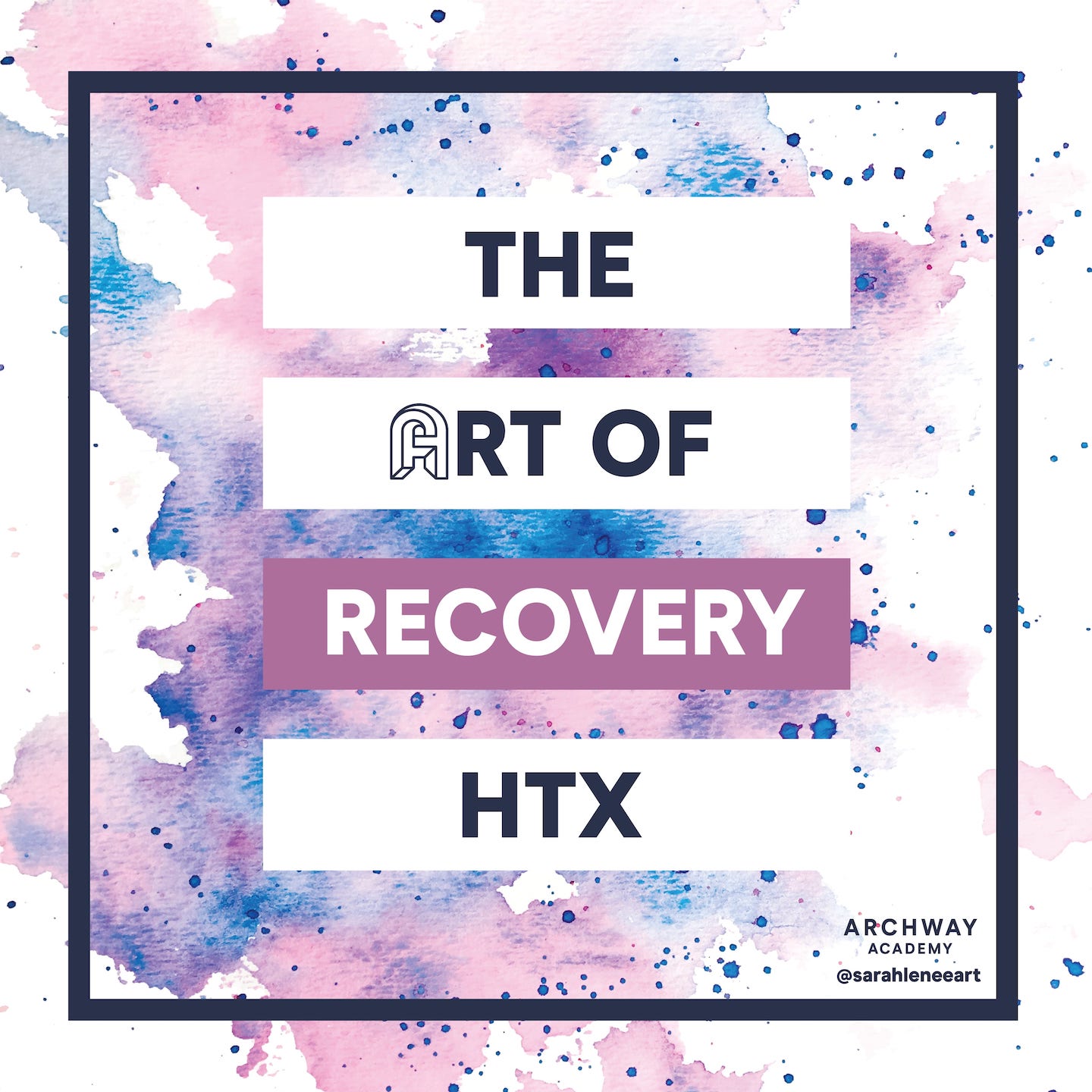 Archway Academy's The Art of Recovery HTX Virtual Show and Exhibit will be held September 20, 2020 to October 23, 2020.
To view the virtual show and exhibit visit MobileCause Platform.
September is National Recovery Month. To celebrate this important month of awareness and advocacy Archway Academy is hosting The Art of Recovery HTX Show & Exhibit. This event will highlight the power of creativity for building and sustaining lasting recovery. Artists will share their incredible journeys with addiction, behavioral/mental health issues and recovery through art and self-expression. All proceeds from this event will provide scholarship funds for students who cannot attend Archway without vital financial support. Archway Academy is a sober high school in Houston, Texas. The Art of Recovery HTX Virtual Show and Exhibit is open to anyone connected to recovery or mental/behavioral health (affected person, family member, friend, or ally).
Give at Home or On the Go
Use our text-to-donate keyword for the easiest way to give at home or on the go. Just text ARCHWAY to 91999 and you'll receive an instant reply with a link to our mobile-friendly mobilecause donation & event page where you can interact with our artists stories, videos and artwork.
For more information on becoming a sponsor, donate, or to submit your artwork scroll down.
Sponsors
VINCENT VAN GOGH – $500
Frieda Kahlo – $350
Georgia O'Keefe – $250
Become a Sponsor
Approximately half of the students attending Archway are receiving full or partial scholarships. They travel from all over the Greater Houston Area, many on public transportation, in order to attend. All proceeds from this event will go directly into the scholarship fund to help our students in need.
Art can be an essential component in people's recovery. You can help share this message and make this event a national success by sponsoring at any level from $250 to $500. Celebrate artists in recovery who contribute and connect with the larger community through their creativity. Expand public awareness of the power of art not only to heal and inspire, but to provide new opportunities for living a life of fulfillment and sustained long term recovery.
To speak to someone about sponsorship, contact Jamie Edwards at 281.923.6313 or jamie.edwards@archwayacademy.org
Additional ways you can sponsor the event and increase your brand exposure include:
HOSTING A WATCH PARTY: To host a Watch Party click here for instructions.
BECOMING AN ADVOCATE AND CROWDFUND: For instructions on how to advocate with crowdfunding, please refer to this document.
Submit Your Artwork
Eligibility: Open to any artists who are connected to recovery or mental/behavioral health (affected person, family member, friend, or ally).
Works may include: canvas, sculpture, photography, jewelry, textiles, paper, mixed media, glass, pottery, and written word.